I really didn't think that things could get any better than last month when we celebrated Emerald's first Christmas but this month has been even more magical. We had so much fun this last month and Emerald just adds so much light and happiness to our lives.
This month was full of adventure with a quick trip to Moab for a half marathon for me and a trip to Disneyland. Emmy was such a champ with all the traveling and schedule changes.
At ten months Emerald is 28.75 inches long (72% ) and 19 lbs 8 oz (63%) BMI 49%. Emmy is wearing size 3 diapers, and is wearing mostly 9 or 12 month size clothes but 9 month clothes are all reaching their end so I will have to put them away soon. I have a feeling we are headed for a growth spurt soon.
Also getting these monthly photos is getting harder and harder, all she wants to do is move and play with her stuffed animal.
She sure has changed the last ten months!
EAT
Eating is still coming along slowly for Emmy, she is eating soft solids when we feed her. She still isn't feeding herself or holding her own bottle so we are working on that and hope that she will start making progress soon. Even though she won't feed herself the food we give her she is always trying to steal her brother's snacks.
SLEEP
Sleep is mostly going well. We have a really good routine with our daytime naps, she is still taking three a day. I love that she is on a good routine but I am also looking forward to working down the number of naps so we can be out and about more. It would also be nice to get her to sleep in longer and skip the morning nap. Most days she is up between 5:00 and 5:30 am. 6:30 to 7:00 would be nicer.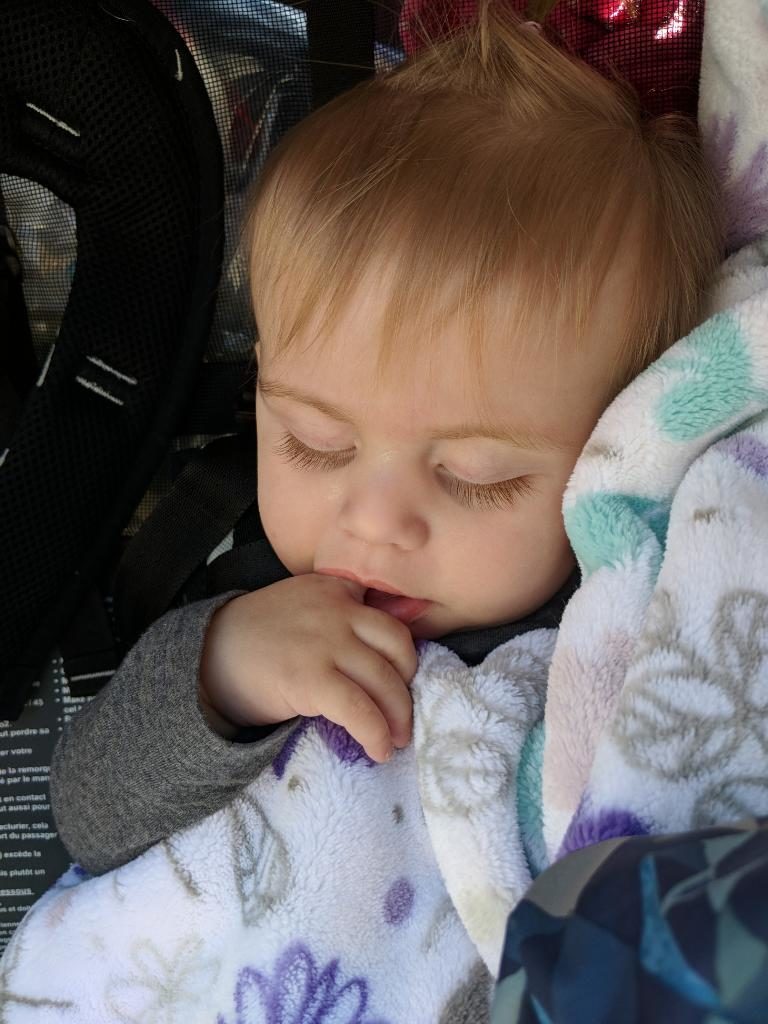 While we were traveling Emmy did a great job of napping on the go mostly in her stroller or in the Beco carrier.
While on our trip to Moab we learned that Emmy was NOT going to sleep in the pack n play so we knew not to bother bringing it to California. She was very happy to get to snuggle every night. I am surprised she slept at all in her crib when we got home.
GROW
Emmy is loving her independence now that she can crawl wherever she wants to go.
he is also constantly pulling herself up and has even started walking with push toys so I am not sure how much longer we have until she is walking.
Another big development this month is the appearance of teeth, or a tooth.
I like to call her fang since one of her upper teeth decided to come in all on it's own. It's normal but very uncommon for kids to get top teeth first, most get their bottom teeth first. Cannon also got his top teeth first so I guess it's just in our genes. There are four top teeth about to come in and just a couple days ago one (just one!) bottom tooth popped through.
Emmy had a follow up eye appointment this month to be sure that her eyes are developing correctly. I was so excited to hear that everything looks good with her vision. This doesn't mean that she won't ever need glasses but her eyes are developing as they should so that makes us happy.
PLAY
Emmy had fun visiting Moab this month and hanging out with her cousins.
She is such a relaxed baby and just wants to hang out with her people.
I wasn't sure how she would react to Disneyland. I was afraid she would be overwhelmed with all the noise and chaos and being away from everything she is used to. But she loved it! She loved the music, and people, and cuddles.
I loved taking Emmy to Disneyland and I can't wait to do it again. Recaps from our trip HERE and HERE
We got to celebrate Valentine's Day this month and it's even more fun now that we have two kids to shower with love.
Emmy loved her card from her grandparents and going to a valentines party with Cannon.
We had one day with temperatures in the 50s so we ran out to the park to play while we could. I didn't put her in warm enough pants to play in the sand so she is wearing Cannon's back up pants that I keep in the diaper bag, haha! She loved playing outside with her brother so much. I can't wait until spring/summer when we can get out to the parks more!
Past Monthly Updates