We are finally back from our trip to Moab for the weekend. I loved visiting Moab in the winter, the weather was amazing, the park was nice a quiet and it was easy (and cheap) to find a rental.
Throwing it back a couple days, I was worried on Thursday that the trip might not happen at all. Earlier in the week Emmy came down with a cold that had some concerning symptoms. I took her to the pedestrian to be sure that it was safe to travel with her and that we wouldn't be making her feel worse. With reassurances from our (amazing) doctor that she would be just fine we went ahead with packing and prepping to leave Friday morning.
Why is it that traveling with kids, even for just a couple nights feels like you are taking half of your belongings with you?!?
Friday morning we hit the road for what would normally take 5.5 hours to drive to Moab.
We took a few breaks along the way to stretch our legs and refuel
We took a quick strabucks break in Frisco, then pushed on to Rifle Colorado to have lunch/dinner.
We found an indoor playground and spent a long time getting some energy out.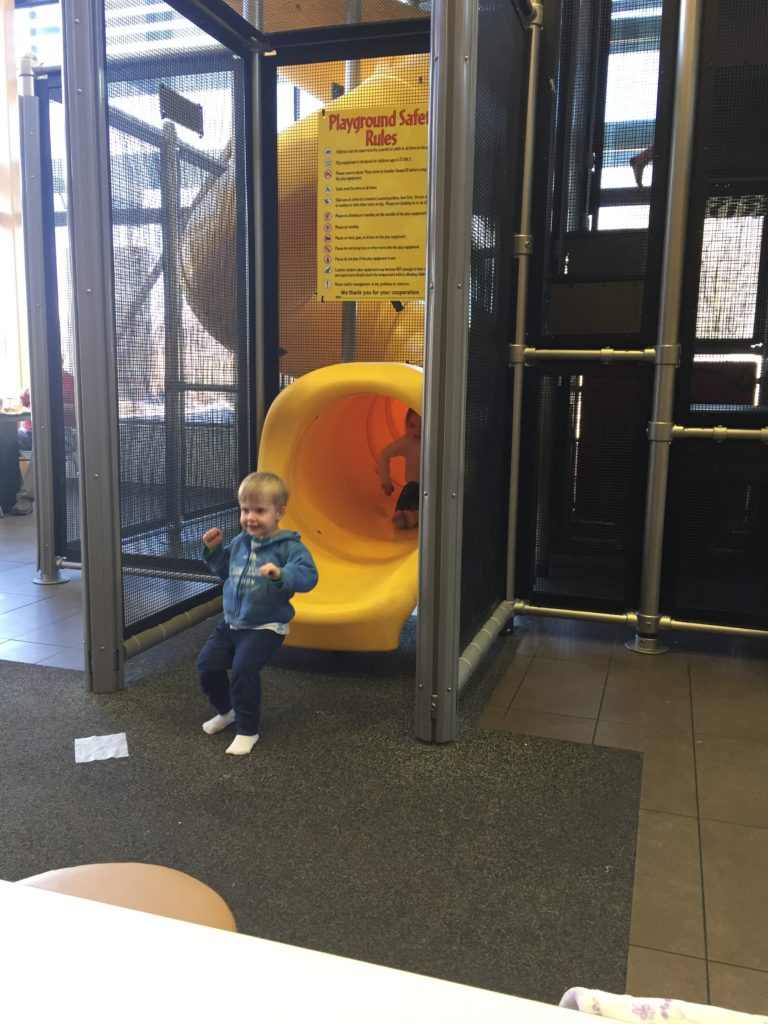 We eventually arrived at our rental at about 8pm
The condo was really cute southwest/adobe style with just enough room for us and our friends (and their super sweet girls) who joined us.
We settled in and got to bed as quickly as possible as it was past the kids bedtime and my race was the next morning!
Saturday morning started not as early as most race mornings. My start time wasn't until 9am so I got to wake up with the kiddos, enjoy some coffee and take my time getting to the race start that was just 10 minutes out of town.
We didn't have time to go to packet pick-up on Friday evening so we arrived at the race start about 45 minutes early and that was plenty of time to go to packet pick-up and get ready for the race. I love how relaxed and easy trail races are!
The race venue was stunning and I felt so grateful to be able to be there and get to race. Race report coming soon!
While I was running everyone else went rock "climbing" (as much as toddlers can do) and exploring.
After finishing my race my legs felt a bit beat up from all the slick rock but I was ready to spend some time with my family and our friends. We went back to the condo so I could shower and eat lunch.
We then took the kids to hike to Delicate Arch. Unfortunately there was ice on the cliffs that we didn't want to take the kids on so we didn't make it to the arch but it was still fun to get out and a good shake out for my legs.
After our hike we went to Eddie McStiff's for Pizza. Cory and I shared the veggie, it was really good!
After dinner the kids and I were tired so we went back to the condo for stories, snuggles and bedtime.
Sunday morning came and it was time to head home. It was definitely not enough time and we would have loved more but we will be back again soon for sure.
The drive home took almost ten hours between our stops and the relentless ski traffic. If I had it to do over again I would for sure stay until Monday to avoid sitting in traffic so long.