If you missed it you can find days 1-2 from our trip HERE.
Day three started our second day in Disneyland. It was another rainy morning but we made the most of it with our Magic Morning Pass. We got in an hour early but only Fantasyland and Tomorrowland were open so it was pretty crowded.
We tried to hit all the rides and activities that we missed on day one. We also had to go back to Pirates because it was just so much fun. We did miss a few things we really wanted to do including riding the Rivers of America Boat and visiting Tom Sawyer's Island. The island was often closed due to the rain, I guess that just saves us something new for our next visit =).
We had some great food for lunch but made sure to save room for the Kitchen Sink Sundae. This thing was huge and we were glad to have all five of us to help finish it. Cannon was actually really into eating this and he isn't one to get excited about food.
We cleaned up the bowl and got a Minnie bowl (without the ice cream) to take home with us. I am looking forward to the kids eating ice cream out of these bowls when they are older and telling them about this trip.
Again we got epic stroller naps and cuddles from the kids.
We had the best time and Cannon was so brave on all the ride.
My mom had one request for the day and it was for Emerald to meet a princes. We had almost given up but as we were walking to dinner we found Ariel. My mom was right that even though the characters terrified her, she loved meeting a princess.
We had dinner in at the Grand Californian where I had the best burger ever! It was nice to sit and eat in the warmth and the kids did surprising well at a restaurant after such a busy day.
After dinner we said goodnight to my parents and headed back into Disneyland. We got to see some off Mickey's Mix Magic projection show and it was really cute, but our main objective was to get to Autopia. We had been talking about letting Cannon drive there for so long and we couldn't miss the opportunity. I felt like the ride had too many fumes and was too noisy for Emerald so we watched from the sideline. Cannon got to steer and had the best time.
On our last day at the parks we headed over to Disney California Adventure. The rain had passed and it was sunny and blue skies all day. This meant there were many more people in the park and it was much harder to get around, fast passes were selling out and lines were longer.
We found there to be fewer rides at DCA that Cannon and Emmy could ride than in Disneyland. This is partially due to the fact the The Bugs Land used to be geared toward little kids has been closed. Although the new Marvel Land I hear that is to replace it doesn't look like it is being built for toddlers. Even so we found plenty to do riding the Little Mermaid, the golden Zeppelins and the Grandparents took Cannon and Emerald on the ferris wheel while Cory and I got to ride the Incredicoaster. We had a blast but had to hurry to Cars Land to use a fast pass on Radiator Springs Racers.
Sadly Cannon and Emerald weren't big enough to ride so Cory hung out with them in Cars land while the rest of us went to race (we lost). Cory said he didn't like the ride that much so he didn't mind missing it, I think he was just being nice. Mom and Dad had never ridden it before so it was important that they got to ride.
Cannon still had a good time seeing all the fun Cars in Cars Land.
We then spent a good amount of time at the Grizzly Peak Adventure area. Rides are great and fun but both Cannon and Emerald needed some time to run, play, climb and crawl. Mom and Dad even found sometime to ride some adult rides.
Then it was Midway Mania with the kids. In our last couple of visits to DCA we haven't gone on Midway Mania because the lines have always been so long. They have added a fastpass now so the wait was more reasonable.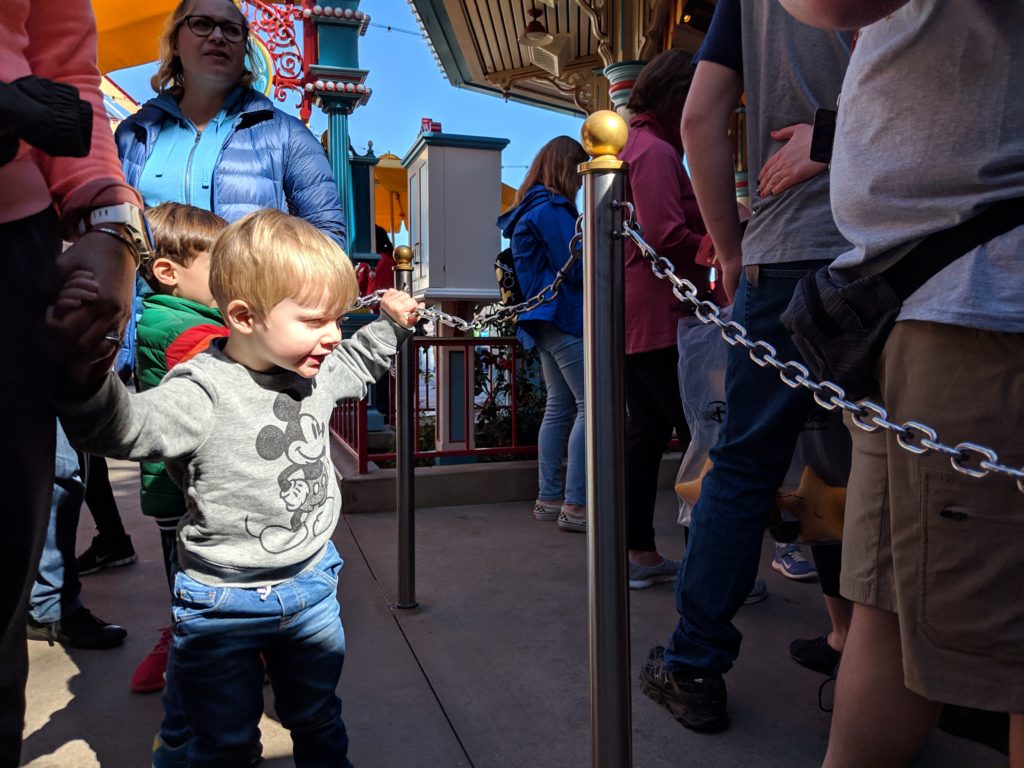 Cannon kind of got the idea of pulling the string on his shooter and made about 1% of his shots (I only did slightly better, LOL).
After that we went to Pacific Wharf for lunch. Then took our time wondering around with sleeping babies. After lunch and naps we lined up for the live Frozen show. Cannon wasn't sure he was ready to be awake but we made the right call since he loved the show. Emmy loved the show too dancing a smiling to all the songs.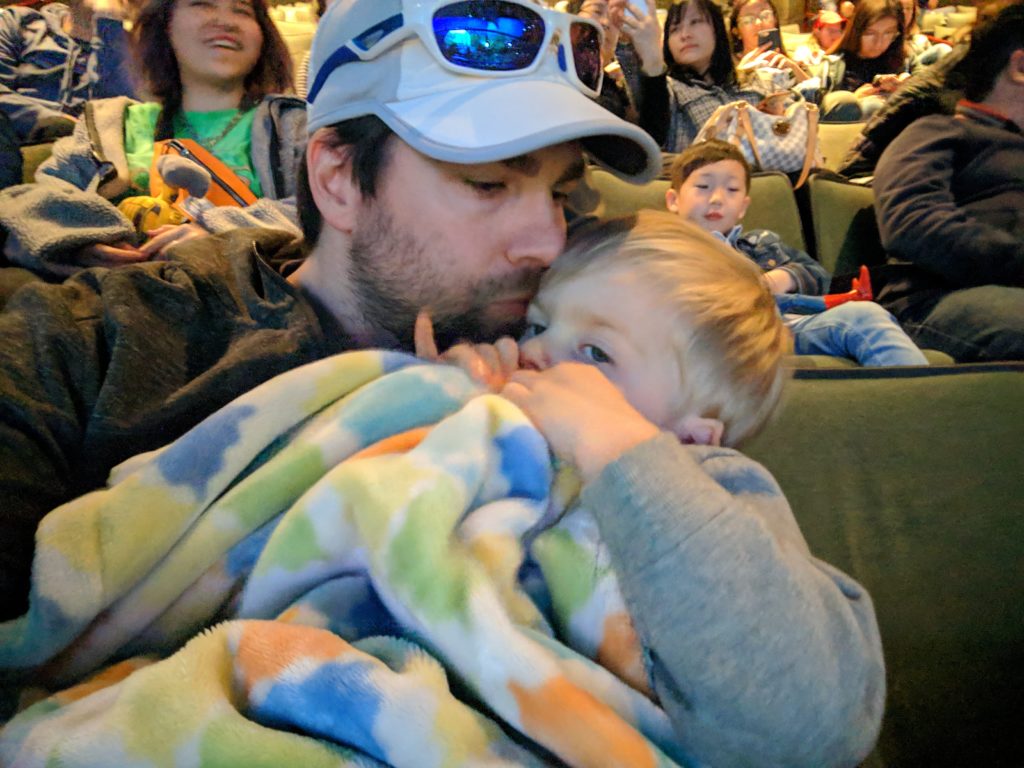 After the show we fit in a couple more rides including Mater's and Monsters Inc.
We had dinner reservations at the Wine Country Trattoria . The restaurant was very pretty with excellent views but I would not go there again. We had to wait twenty minutes to be seated, even though we had reservations and the food was not that great.
After dinner Cory and I had fast passes for Mission Breakout. I loved this ride when it was Tower of Terror so I was excited to see if it was still as good. I would say the new overlay seemed to not quite fit but the animatronics were great and I thought the actual ride was even better! While we were on the ride Mom and Dad took the kids shopping. Cannon scored a bubble wand, I can't wait for it to be warm enough for him to play with it in the back yard.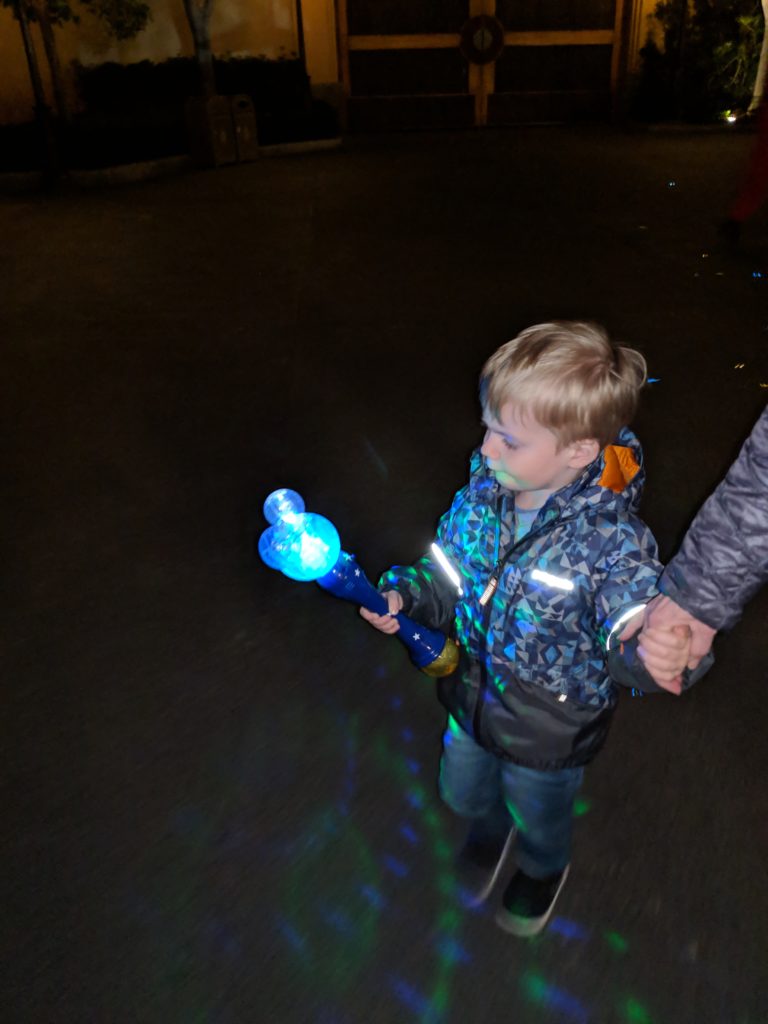 After that the park was closing, I felt like our time had gone so quickly and was sad to leave. I can only hope that we will be back in a couple of years.
Our fifth and final day of the trip was just a travel day. We spent the morning packing up and called an Uber for our 11am flight.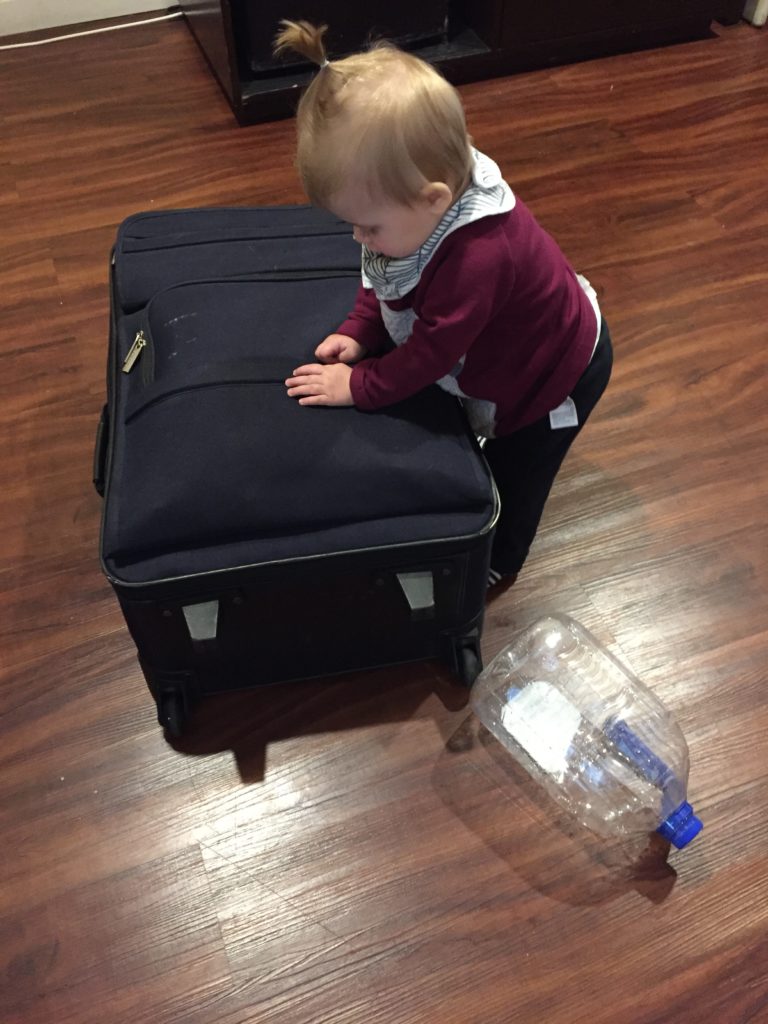 Cannon was still pretty excited about the planes.
On the way to California Cannon stayed up and watched movies. On the way home he passed out.
I guess we tired him out a bit this week.
We were so happy to get home and see the puppies that had been staying at my brother's house.
The first picture was from when we dropped them off, the second the day before we picked them up. The weather changed a bit while we were gone. Coming home to seven degrees and six inches of snow was shock to the system.
Overall we had a great trip, it was more fun than I thought it would be. I would highly recommend taking a baby and a toddler to Disneyland, you may not get in as many rides as you used to but it's so much more magical.