Utah has some amazing National Parks but the State Parks should not be overlooked! We LOVE Goblin Valley State Park so we made the day trip over from Moab. It's only 1.5 hour drive so not too bad.
In the morning we woke up to a bit of snow in our campsite.
It was a surprise but also pretty.
On our way to Goblin we stopped for coffee and treats.
When we arrived we decided to start with a hike.
We did the Entrada Trail along some drainage areas and it was such a cool, unique experience. Dogs are allowed so Humphry came along with us.
We then made our way to the Valley of the Goblins, which is a big open area full of Hoodoos that you can climb and explore.
It is so fun to see the kids playing in the best (biggest) playground ever.
It's the perfect day trip from Moab or this is a good stop if you are seeing some of the other National Parks. Last year we camped here on the way home from Capitol Reef.
On our way back to Moab we decided to grab a pizza and go back into Arches National Park to eat dinner.
This was such a fun way to eat dinner I highly recommend. At this time in the evening the park is pretty quiet.
Then we went down to the Double Arch area to go for a little sunset hike.
We have been down to this area many times but always hiked up to the Windows section. This was our first exploring the double arch side and I can't believe we waited so long, it was stunning!
This hike is super easy and accessible to view the arches. To get up inside takes some scrambling.
The kids loved the sandy trails.
It was amazing watching the sun go down over the desert.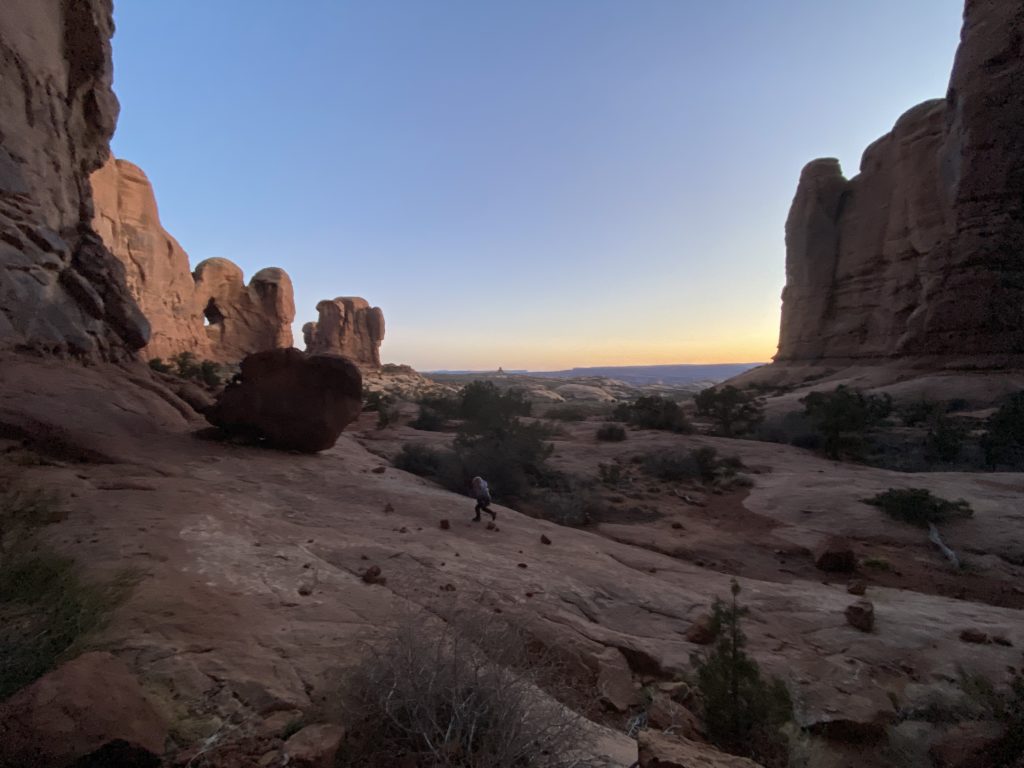 I will never get over this place! Hiking out in the dark was a fun experience since there is so little light out here.
Then on our way back to our camper disaster struck, I won't go into the long story but we ended up in a hotel overnight, searching for a way to get our Tahoe fixed. Luckily we were all safe and together so it could have been WAY worse.