I was hoping for longer miles this morning but Cannon shared his cold with me last week. I started to feel awful last weekend and I thought for sure I would be better by now. I do feel much better than a week ago but my lungs are still not functioning well. I decided not to cancel class this week and was attempting to teach while coughing in my students' ears (sorry!). My students are all nurses pursuing their BSN and they encouraged me to take Mucinex and drink lots of water, they are so sweet!
They really saved my other classes, once I took their advice my symptoms were much better and I was able to get though my other classes with much less coughing.
Poor Cannon and Emerald have come down with this cold too and are also on the mend. Emmy had her well check yesterday and her doctor said her ears Looked good and lungs sounded good so hopefully they will both be feeling better soon. Emmy needed a couple shots so after her appointment we took the kiddos to a little ice cream shop.
Even though Emmy wasn't a fan of the shots she took it like a champ and enjoyed sharing ice cream with us.
Even with the medication my runs have been suffering.
I felt like I couldn't breathe and my lungs were full of junk, 4 miles felt like it cold have been 20. I am hoping my lungs clear up quickly and I am back running and feeling like I can breathe.
I did run across this sign:
I really appreciate that our city is putting out informational signs about snakes. I have seen so many people be afraid and try to harm snakes. While I don't have a strong fear of snakes, I have been surprised and hot footed away from a rattle snake a time or two on the trails. I understand being afraid of snakes but hope that everyone can respect them and know that they are an important part of the natural landscape we love to run in.
I made it home without seeing any snakes but I wasn't watching my step close enough and rolled off the side walk. I rolled my ankle and went down hard on my hands. I run on technical trails all the time and rarely fall, but apparently I can't handle flat concrete. My ankle seems fine it just my hands that seem injured, I am fairly sure there is no real damage or fractures but we will have to see as the swelling settles down. Worse than my fall (by far) was Cory crashing his bike on the way home from work. In typical Cory fashion he got up straightened out his handle bars and rode home with blood running down his leg. We could have easily gone and picked him up but he is tough and stubborn 😉 So now we are an odd parenting duo with bandages and swelling a bruises.
After getting home and having breakfast with the family we decided the kids needed to get some energy out so we took them to a park we love in Boulder near the hospital that they were both born in.
This park has a great rock/cave structure for kids to climb on. Cannon loved climbing and exploring, he also decided it was better without shoes.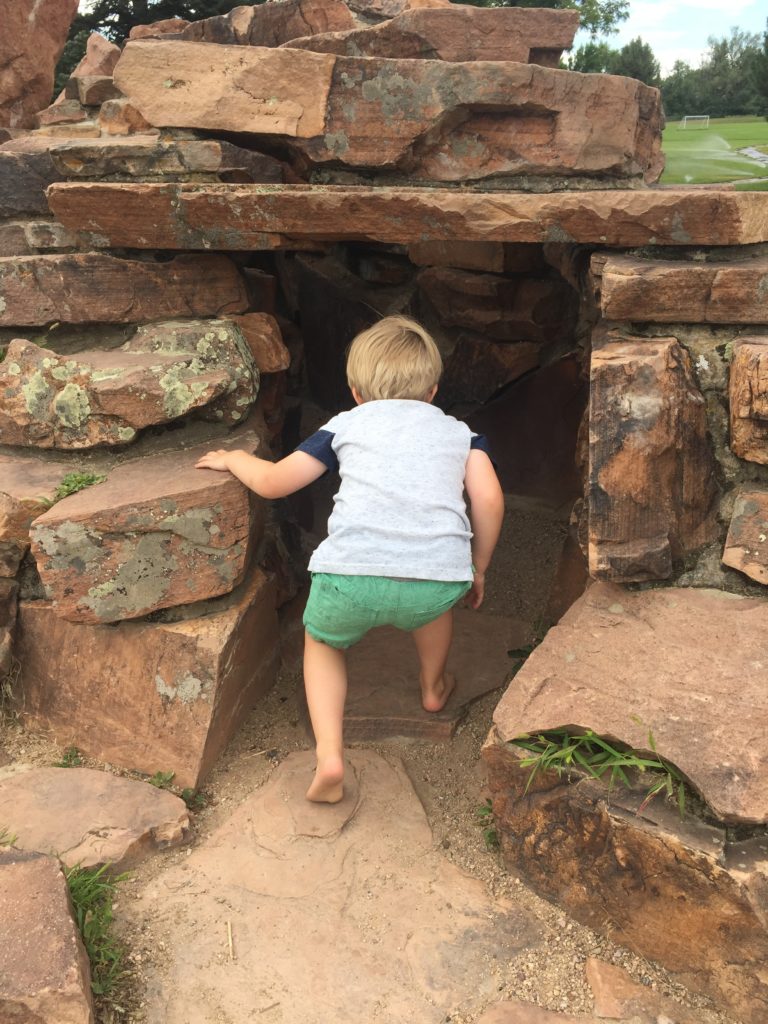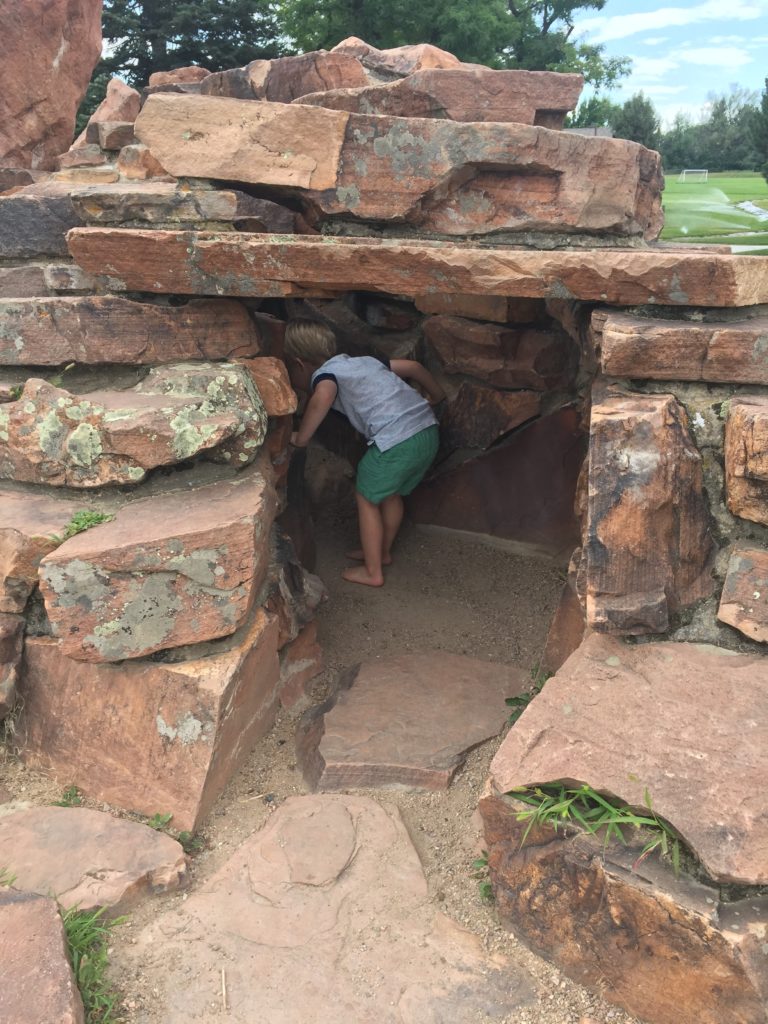 both kids had fun playing and climbing.
Arapahoe Ridge Park is worth a visit if you are in Boulder!

After getting some energy out we went home for lunch and nap time for Emmy. Cory has been feeling pretty tired (probably fighting this cold) so he ended up napping with Emerald. She is the best cuddler and the chair in her room is very comfortable to nap in.
Then it was off to Costco to grab some things for dinner. When we got home there was a little rain falling.
Emmy's jacket is much too big because the smallest they had was 2T, she'll grow into it =). Both kids love rain so they were running around in the driveway.
We had Costco chicken and and Cesar Salad kit. So easy and so good.
After dinner we played outside and enjoyed some mild weather after so many HOT days. Then it was bath/books/bedtime.
Cory and I then iced our respective wounds while watching more of Le Tour de France. Pretty great Saturday (well except for the fall) if you ask me.
_____________________________
What are you doing for your Saturday Night?