It was a pretty perfect Sunday if you ask me, we had a few plans but mainly we just played as a family and got some chores done.
The day started with one of my favorite things. Emerald loves to read books together. She will grab a book and bring it to Cory or me.
Then she will turn around and sit herself down in our lap.
She snuggles in and waits for us to read to her. She does this multiple times a day and we both love it so much.
We then spent time cleaning up the house and then took the kiddos outside with us to get some weeding done. The summer has been so wet that the weeds are thriving. Cannon loves to "help" and it's pretty fun to have him out playing while we work. Emmy also took a morning nap while we worked in the yard, some days she does still seem to need a morning nap, it's not really predictable.
When Emmy woke up it was time to play and share some apple.
Cannon was trying to help Cory with his road rash, but was just causing Cory lots of pain 😉
We set up a "fort" we got from a neighbor, it's from FreeTime 4 Kidz, I looked for it and it seems like they aren't selling them anymore.
The kids love it and spent lots of time playing together.
Then it was time for groceries and lunch. Emmy went down for her afternoon nap and Cory tried to convince Cannon to nap with him outside.
Cannon considered it for a minute.
But decided to find shapes in the clouds instead.
I think he's pretty (not biased at all)
I won and Cannon joined me in making a blueberry lemon pie.
I used this recipe and it is so good.
After Emmy's nap we went to have dinner with my Mom, Dad and Brother.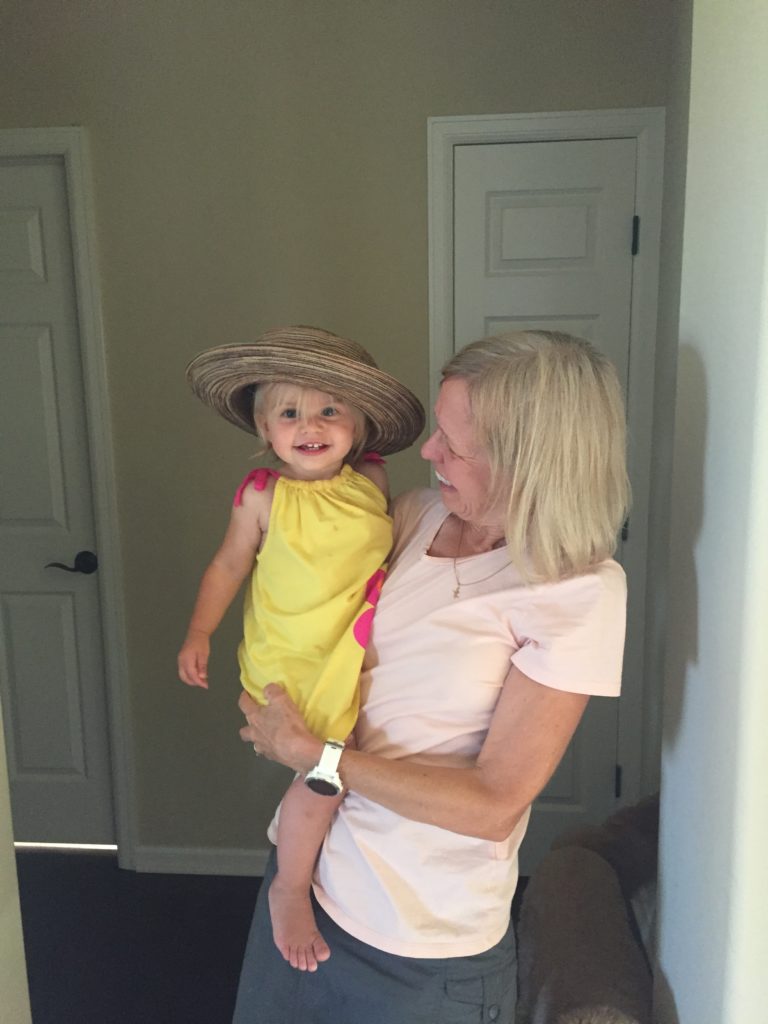 We loved seeing everyone even if we had to leave quickly to get to Cannon's swim lesson.
Cannon has improved so much lately and is really enjoying time with his instructor.
Emmy ran up and down the hallway to get her energy out.
Then it was bath/bed/books for the kids and Tour time for Cory and I.
Something that has hit me really hard is that summer will be over and Cannon will start school in three short weeks! It will still technically be summer and hot out but with school starting it FEELS like the end. Cannon will only be in school 4 days a week for 3 hours a day but daily morning playgroups or park trips will be done. Since the start of school looms so near I wanted to make an end of summer bucket list so we can focus on all the fun things we want to do in the next few weeks:
Playgroup at our house for as many friends as possible
Picnics with Dad at work
Try a new splash-pad
Visit our neighborhood pool (hopefully it will re-open soon after the flooding)
Eat lunch outside
Eat dinner outside
Camp out (even if it's just in the backyard)
Invite friends over to play in the kiddie pool
Have cousins up to play in the pool and have a BBQ
Go for a hike in the mountains
Popsicles in the backyard
Go to ice-cream shop
What's would you put on a end of summer list? What am I missing?