After leaving Berlin we had a travel day to get ourselves from Berlin (You can read about our time in Berlin HERE and HERE) to Nuremberg.
Our travel day included an Uber to the train station then lugging all of our things and the kiddos through the station to the lower levels where the high speed trains are.
The train ride went smoothly and we had wonderful Germans who shared our table gave us advice on what to visit during our travels.
When we arrived in Berlin we ate lunch at the train station then grabbed a cab and headed out to where we were picking up our Motorhome.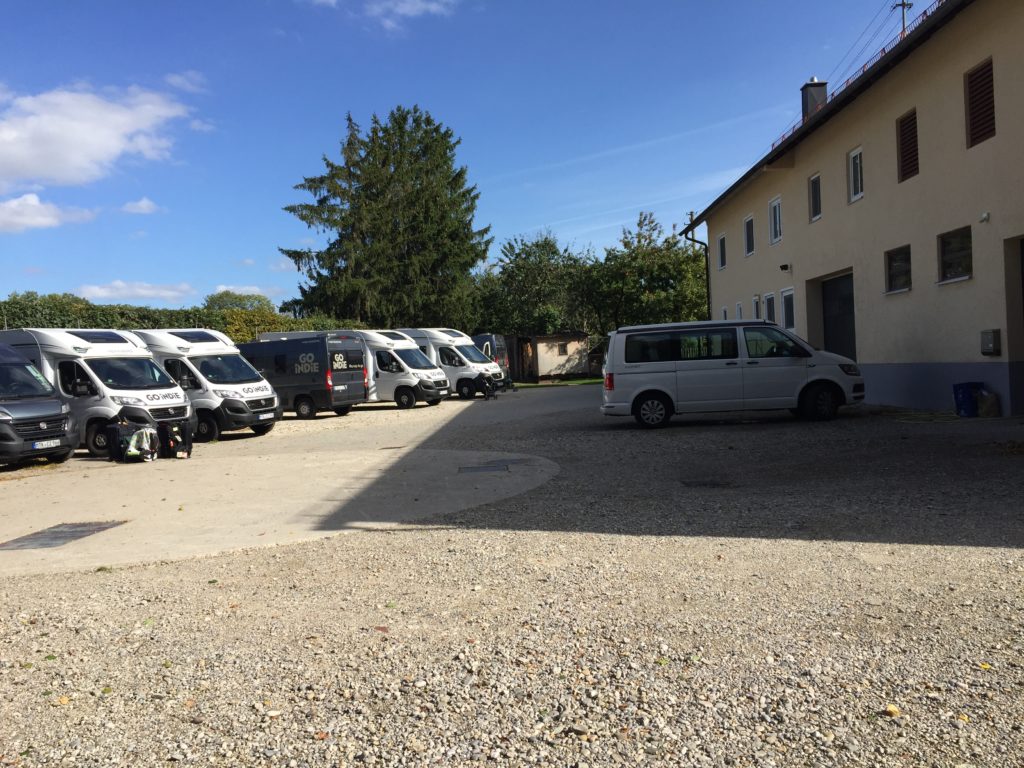 When we told people we were traveling by RV a few people thought we were crazy. We are so glad we traveled this way rather than renting a car or trying to get around by train. The kids loved having a place they were used to and we loved not having to pack up all the time. We also liked that we could "eat in" more often, eating out gets old when you do it all day for almost three weeks.
The kids had fun checking out the property, playing with the chickens and exploring the RV. Once we were on the road we hit a local grocery store. The kids had done so well being cooped up traveling all day so we didn't want to ask them to sit still in a restaurant. We found a very cute playground where we could have a picnic.
After dinner we loaded the kids into their carseats (they both fall asleep easily in the car) and drove to Nuremberg.
We found a great place to park overnight just outside the city and settled in for the night.
A quick breakfast then off to catch the train into Nuremberg. I was so excited to see this city, it felt just like I wanted Germany to be.
"Nuremberg, a city in northern Bavaria, is distinguished by medieval architecture such as the fortifications and stone towers of its Altstadt (Old Town). At the northern edge of the Altstadt, surrounded by red-roofed buildings, stands Kaiserburg Castle. The Hauptmarkt (central square) contains the Schöner Brunnen, the gilded "beautiful fountain" with tiers of figures, and Frauenkirche, a 14th-century Gothic church." – Source
There is way too much to share from our day but it was like a fairytale.
We walked from the train station directly across the street into old town.
We did a ton of walking and checking out the sites. We then found our way to the Hauptmarkt, where the famous Christmas markets are held.
Cannon loved exploring Schöner Brunnen, a 14th century fountain.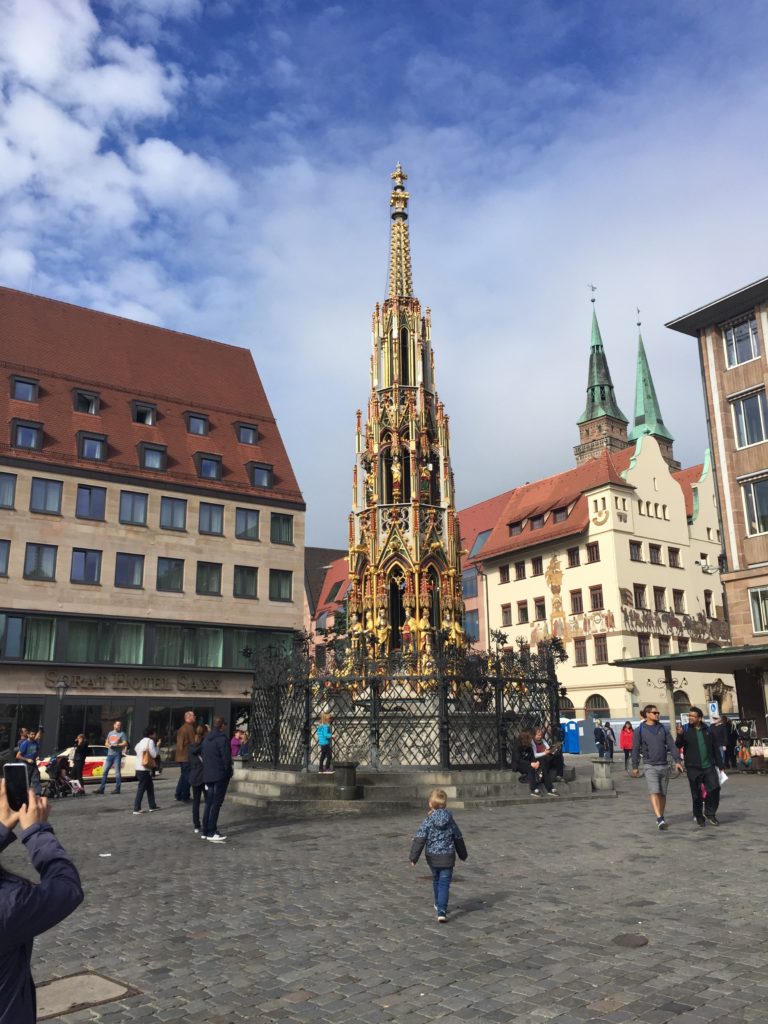 The fountain has a gold ring that when turned three times is supposed to bring luck.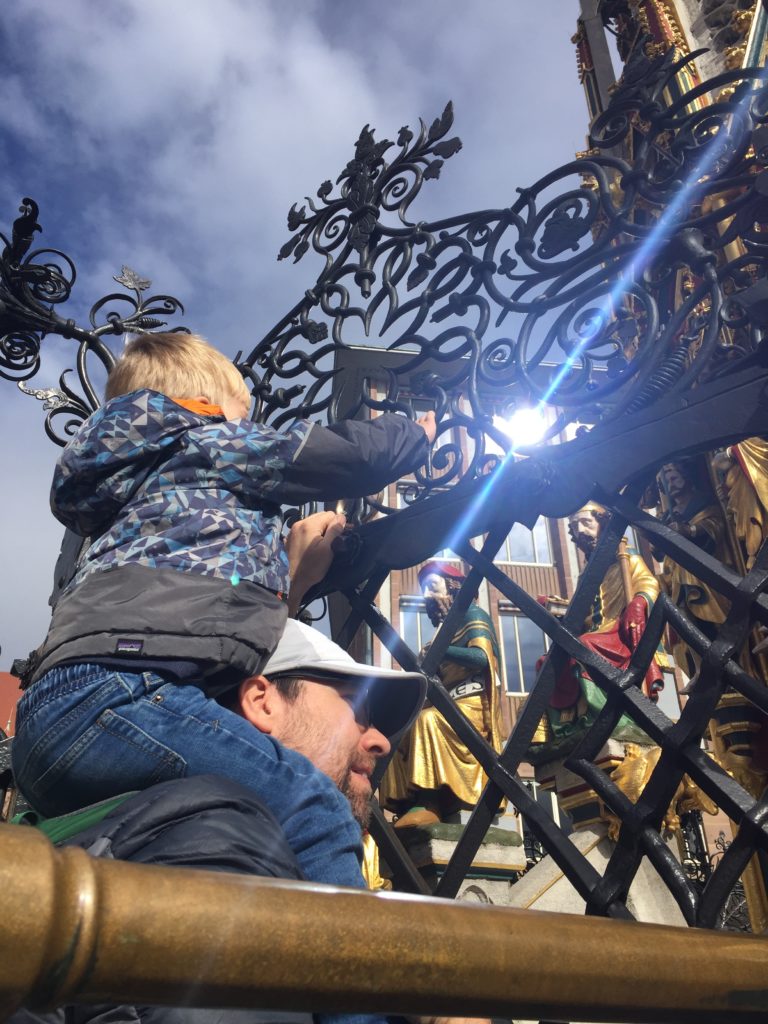 We then caught a tram tour of the town so we could see some sites outside of the main walk.
After our tour we went on the search for lunch. We found the cutest little local restaurant called Bratwursthausle.
Nuremberg is famous for their bratwurst, tiny little pinky sized sausages, they were delicious and so was the potato salad (very different than American potato salad).
Terrible photo but the inside of the restaurant was really cute.
After lunch we climbed the hill up to the imperial castle.
"Nuremberg Castle is a group of medieval fortified buildings on a sandstone ridge dominating the historical center of Nuremberg in Bavaria, Germany. The castle, together with the city walls, is considered to be one of Europe's most formidable medieval fortifications." – Source
We spent some time exploring the castle on foot, there were incredible views.
We would have liked to have taken a tour but the kids were DONE with getting in and out of their strollers and not getting to run free.
It started to rain so we made quick tracks back to the train station and back to the RV.
We had dinner in the RV then settled the kids in so we cold drive to Rust, Germany.
Up next, Europa Park!
_____________________________________
European Adventure Posts
EUROPEAN ADVENTURE – BERLIN DAYS 1-3
EUROPEAN ADVENTURE – BERLIN DAYS 4-6
EUROPEAN ADVENTURE – TRAVEL DAY + NUREMBERG
EUROPEAN ADVENTURE – EUROPA PARK
EUROPEAN ADVENTURE – SWITZERLAND
EUROPEAN ADVENTURE – INNSBRUCK + MUNICH