My day started out like normal with an early morning on the treadmill…..I swear I will get outside and run in the dark tomorrow morning. The treadmill is great but I really need to shake things up!
After my run I made the kids strawberry smoothies. Adding whipped cream and sprinkles raised it up a level.
They were pretty excited, being a mom is fun.
After breakfast we went to the basement for "recess" then it was snack time.
I think we are all doing well on our schedule, and even though we aren't doing much, it always feels busy anyway. I really want to do something with this room if we are still remote learning in January. Anyone set up a school room in their house this year?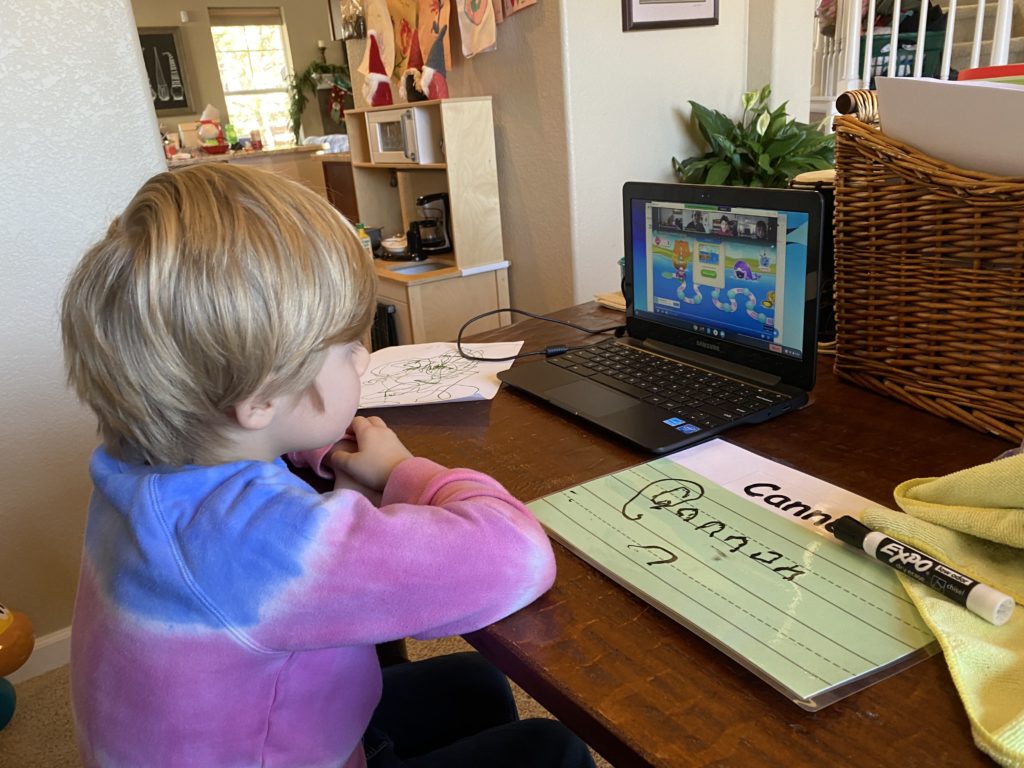 While Cannon was attending his Zoo class Emmy was practicing her writing too.
When I got done with putting Emmy down for her nap I came out to this:
One of the perks of working from home, take a quick lunch nap with Cannon. The kids are really not going to like it when Cory does go back to the office.
After nap we went to the park to enjoy the sunshine.
Do you think they will let me dress them matching in ten years?
Both kids are really into dinosaurs so this playground was a hit.
Lately I have been thinking a lot about 2021 racing. With vaccines coming out soon it feels like there could be a light at the end of this tunnel. While there are some races going now, I am just not willing to participate yet but I am hopeful that late spring or summer we might be able to. It would be so nice to have something on the calendar to look forward to. I am a little bummed I can't plan on any of my favorite winter spring trail races but if things turn around quickly some of these could be options:
Run Through Time Half Marathon – March 13
I have always wanted to do this race…..probably not this year but someday.
Behind The Rocks Ultra – March 27
I did this race in 2015 and would love to go back. Moab is amazing and the camping near this race looks great. It would be a fun outing with Kermit (our camper).
Desert RATS Trail Marathon – April 16th-18th
I did this one in 2017, LOVED it.
Collegiate Peaks 25 Mile Trail Race – May 1st
I have wanted to do this race for a long time, it looks so beautiful! Hoping things will be looking better by then.
North Fork 50K – June 3rd
I ran the 50k in 2017 and it was so beautiful, close to home and has some great camping so this is definitely on the short list.
Mt. Hood 50 – July 10th
And of course take two at the Mt. Hood 50. Fingers and toes crossed.
Not planing past July because who knows what the year will bring.
_____________________________________________
What's on your list for 2021?