We had a wonderful low key weekend with some of our favorite things.
We spent lots of time outside.
Cannon got a haircut, only his second since the pandemic started, I love it when I can see his face better.
Cannon and Emerald built projects from Home Depot with Cory. They both loved it and did so well! They got these kits because we bought chairs and a new kitchen table from Home Deport (who knew you could buy furniture from them?!) but the chairs were recalled and it was taking forever to get it all sorted. I can't wait to have out new table and chairs set up, our current set is miss-matched and it bothers me.
We tried this Kodiak Cakes syrup and it is amazing!
We went on a hike with my parents and brother, it was SO nice to see them.
We visited our new car! We are upgrading our tow vehicle to a Chevy Tahoe, we love it for its size and tow capacity. We don't actually pick it up until Feb. 1st but we can't wait to get it and take the camper out for some winter camping!
We visited one of our favorite playgrounds.
All this time outdoors is so good for us. Without Covid we would be more likely to do indoor activities in the winter so that it one small benefit from this terrible situation.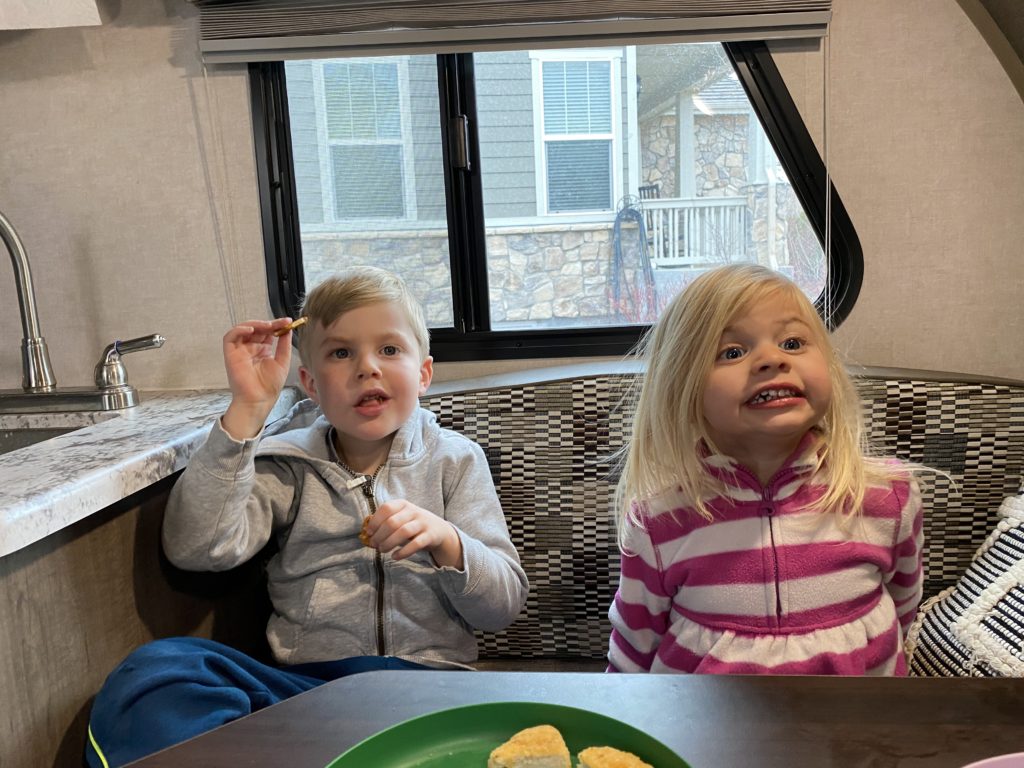 We took the kids "out to lunch" in our camper. It's a little bit of fun and something different to do. We haven't been inside a restaurant in over a year. Lots of take out but this was fun to spend some time in the camper. We purchased Kermit (named for the frog that is the mascot for R-pod) in October, slept in it for one night then put it in storage.
We are itching to take it out for some adventures.
Not pictured was a couple treadmill runs, lots of yummy foods and cuddles while watching movies.
_________________________________________________________
How was your weekend?
What are your favorite activities now that our options are limited?