It's been a while since I posted a weekly rundown, the week of my ultramarathon seems like a good time to bring it back to life. The last I updated this I ran the Desert Rats Trail Marathon since then I have been trying to keep my milage up but I haven't  gotten the time in that I would like.
Last week I didn't mean to taper for my 50k, I was hoping to keep my milage high, but my mental game wasn't strong and with summer semester starting I let it slip. Just five weeks until Leadville Silver Rush so I have about 3 weeks to keep the pressure on, then taper.
As usual I am linking up with Jessie at The Right Fits and Jess Runs ATL to recap last weeks training.
———–
Monday:  On Memorial Day Cory and I decided to take Cannon for a hike in Rocky Mountain National Park. We hiked up to Emerald lake, it was beautiful, but the trails were mostly still covered in snow. I was so glad that Cory thought to pack our Yak-tracks.
Tuesday: 6.7 mile run a 1,000 meter swim, I am so happy that our neighborhood pool has opened for the summer.
Wednesday: Nothing, sad……but it was the first class of the semester, which is always crazy so I am going to give myself a pass.
Thursday: 3 miles on the treadmill, nothing exciting.
Friday: Nothing again, my father had hip replacement surgery, everything went well but I wanted to visit him and prep for my race.
Saturday: North Fork 50k!!! About 33 miles of gorgeous miles. More details coming soon in a race report so for now I will just say that this is an amazing race and you should totally do it! The weather was perfect and I had a great time.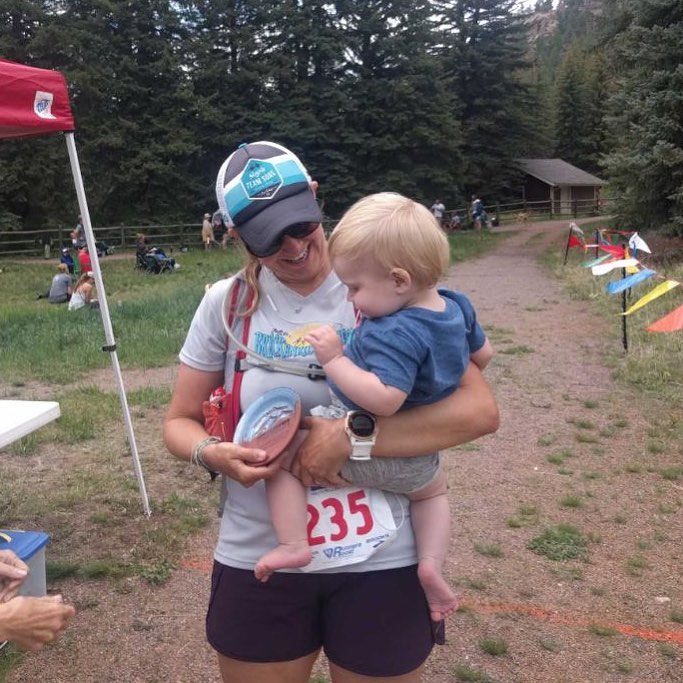 Sunday: Nothing again, we spent the day celebrating Mother's Day with my mom. She was off riding bikes in Tuscany in May so we all celebrated her in June.
Totals:
Running: 42.6 miles
Swimming: 1,000 meters, impressive, no?
This weeks goal is 65 miles, let's see if we can make this happen!