For our second day in Austria we decided to drive down to Innsbruck.
We were excited to see more of Austria and visit the Alpine Zoo that we had heard great things about. We had trouble finding parking that would work for the RV, we eventually found something that was just for a couple hours near the university.
We walked into town and enjoyed a delicious lunch.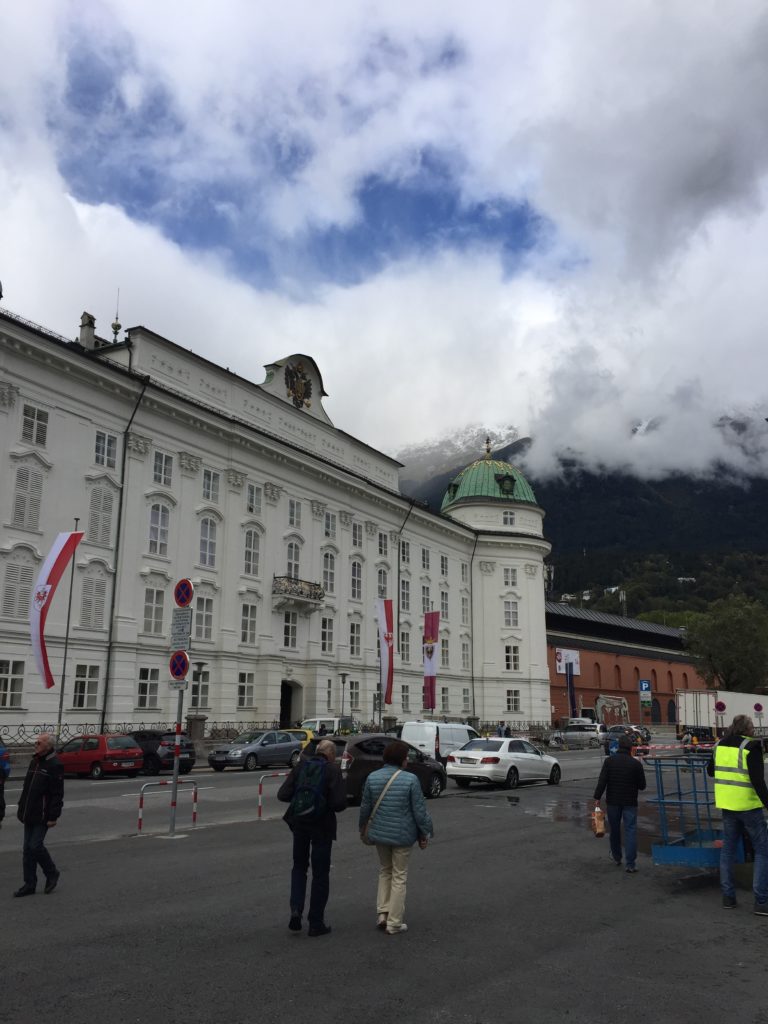 After lunch Cory took Cannon with him to look for longer parking while Emmy and I walked through town.
The downtown area was so gorgeous we could have spent way more time there.
We made it to the river where there were views of the mountains.
Unfortunately Cory and Cannon didn't find any parking that could fit the RV for long enough to visit the zoo.
This was the first time having the RV was a liability, better planning would have helped us, we just assumed we would find parking. We decided to throw in the towel . We found a little park to give the kids a chance to play before we needed to get on the road back to Germany.
The next morning we drove into Munich to return the RV where we caught a ride to the airport. Our flight wasn't until the next day but we didn't want to lug around the carseats and extra luggage with us. The Munich airport offers a luggage storage service where you can leave your luggage for up to several days. After dropping our extra gear we caught the train into Munich to get to our Airbnb. We got settled into our room and were ready to explore Munich. We took a bus over to the English Garden. There is a wave right at the entrance of the park that is popular with surfers.
It was odd and really cool to see people surfing in the middle of the city. After watching the surfers for a little while the kids were ready to play so we found a park where they could have some fun.
These two really are best friends.
After we had our chance to play we walked through Munich's Old Town.
Munich was beautiful and like most places I wished we had more time there.
We made it to the Marienplatz in time to watch the Glockenspiel.
The kids thought the clock was pretty fun to watch.
We then found a little family run Italian restaurant for dinner, the food was amazing.
After dinner we picked up treats for the next mornings breakfast.
Germans are serious about their pastries!
Back to the Marienplatz to catch the S-BAHN (subway) back to our rental.
The next morning we had to wake up very early to catch a bus, to the train to the airport. Getting out of Munich was quite the task, we had to wait in (long) lines many times to have our passports checked four times. Even with what we thought was plenty of time we still almost missed our flight.
We loved our adventure as a family but were ready to get home to our puppy, house and normal life.
Even though we had to compromise a lot of what we did because the kids were so little I wouldn't change a thing!
_____________________________________
European Adventure Posts
EUROPEAN ADVENTURE – BERLIN DAYS 1-3
EUROPEAN ADVENTURE – BERLIN DAYS 4-6
EUROPEAN ADVENTURE – TRAVEL DAY + NUREMBERG
EUROPEAN ADVENTURE – EUROPA PARK
EUROPEAN ADVENTURE – SWITZERLAND
EUROPEAN ADVENTURE – INNSBRUCK + MUNICH