Our fourth day in Berlin started off with a trip on Berlin's S-BAHN (Berlin's under and above ground train system) Cannon loved traveling by train and bus.
We then hopped aboard a bus to visit some of the sites including the Victory Column, a monument to victory in the Danish-Prussian War in the 19th century.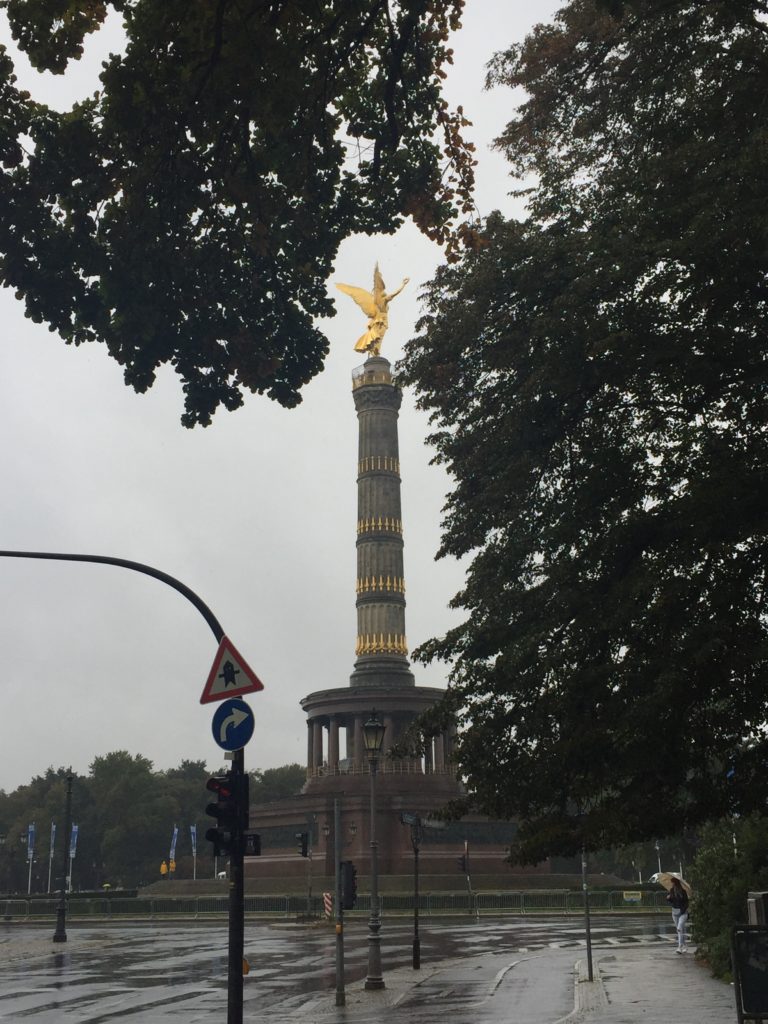 We didn't do as much walking to see the monuments as we would have liked since it was pouring down rain.
We made our way to Breitscheidplatz and found a place to enjoy lunch.
We tried to eat in an Irish Pub but it was full of cigarette smoke. It big shock to me was how many people still smoke in Germany and all the paces you are still allowed to smoke. We moved on and found a Bavarian restaurant that didn't allow smoking. After lunch we explored the Breitscheidplatz
We then toured the Gedächtniskirche, which was beautiful and haunting.
"The Gedächtniskirche or Kaiser Wilhelm Memorial Church is the symbolic centre of West Berlin, an anti-war memorial to peace and reconciliation. Following allied bombing during WWII, the original west Tower has remained standing as a ruin and is hauntingly named the "hollow tooth" as it is literally an empty husk. Immediately recognizable and located on the Breitscheidplatz at the start of the busy shopping district which includes Tauentzienstraße and Ku'damm, this is the only building on the square which was spared by the bombing and deliberately preserved as a part ruin." – Source
Breitscheidplatz is also the site of a 2016 terror attack during the famous Christmas market. They laid a bronze line where the truck plowed into the market killing and injuring many.
After our time in the square we made our way over to the Berlin Aquarium to escape the rain.
The aquarium was a little old which was charming in some ways but definitely not my favorite aquarium (opened in 1913).
The kids loved the exhibits and enjoyed being able to run around out of the rain. It was also three stories tall which was interesting.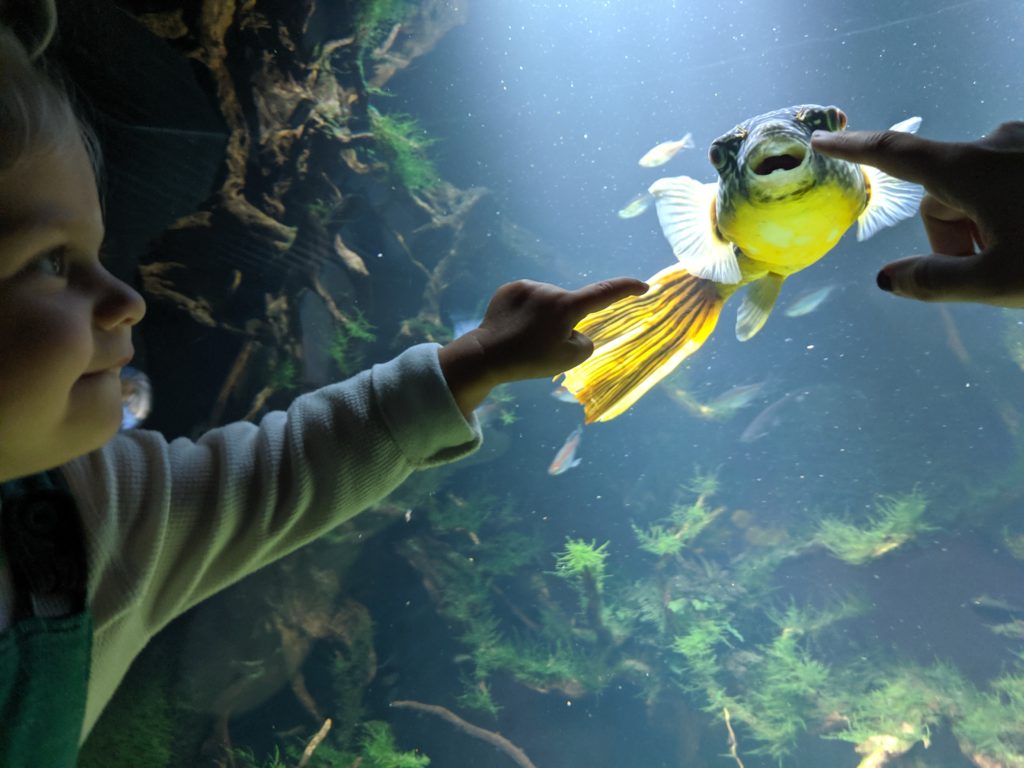 After all day out in the rain we weren't feeling up to heading out again for dinner so we brought pizza back to our hotel room and all agreed that was a great idea!
DAY 5
On our fifth day in Berlin we started the day with a trip to local coffee shop, this one was attached to a bike shop and was super cute.
My parents decided to take a quiet day and we took the kids to the Berlin Zoo.
The zoo is even older than the Aquarium, opened in 1844!
We loved the zoo, it was gorgeous.
The exhibits were great and the kids loved a huge playground that was there.
We were ran off earlier than we would have liked by a heavy down pour.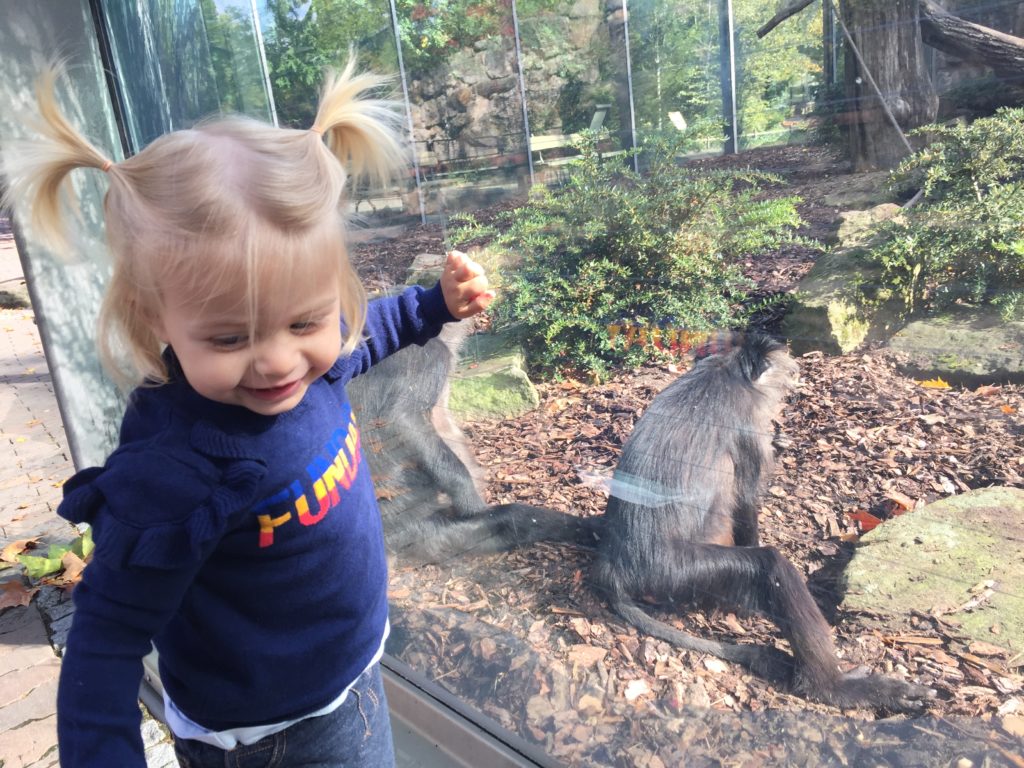 we then went out for a delicious Italian dinner so my Mom could carb-load for her marathon the next day.
DAY 6 – Marathon Day!
We were up nice and early to see mom off to the start line. We didn't want to bring the entire circus but Cannon is my little adventure buddy and came with me to see mom as far as we could.
It was really easy to get around on the S-BAHN and to get to the start line.
Cannon enjoyed being his Grandma's crew.
We saw mom all the way to the start corrals where non-racers were not allowed. After seeing her off we went back towards the hotel in search of coffee.
The race went just a few blocks from the hotel so we went to see mom at around mile 7.
If we didn't have the kids with us we could have used public transit and see her a few other places but we don't travel fast with these little ones and they don't like being drug all across the city. We did find a playground so they could get some energy out and lunch before heading to the finish line.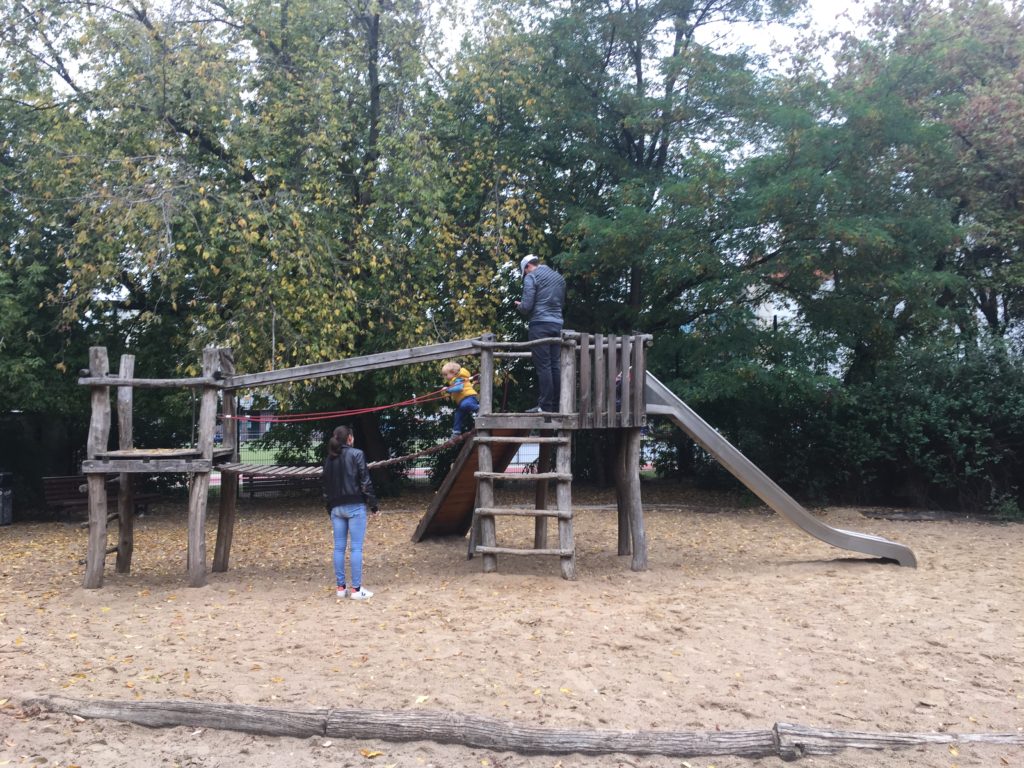 Just after playing at the park it started to pour down rain. We were all feeling sorry for the marathoners who were likely freezing. We made our way to the finish line to see mom and were all soaked and freezing. We were so happy to see mom finish her marathon and try to get her back to the hotel to rest and warm up. We were all cold and tired (especially mom) so we ate dinner in our hotel rooms and packed to leave the next day!
This was the point that we parted ways with my parents, they were off for a river cruise (which looks like it was amazing!) and we were off to tour southern Germany, Switzerland and Austria. We enjoyed our time in Berlin, most of all cheering mom on for her race.
Up next, travel day and Nuremberg!
_____________________________________
European Adventure Posts
EUROPEAN ADVENTURE – BERLIN DAYS 1-3
EUROPEAN ADVENTURE – BERLIN DAYS 4-6
EUROPEAN ADVENTURE – TRAVEL DAY + NUREMBERG
EUROPEAN ADVENTURE – EUROPA PARK
EUROPEAN ADVENTURE – SWITZERLAND
EUROPEAN ADVENTURE – INNSBRUCK + MUNICH