Happy Friday everyone! We are off to Moab today, please send us good vibes as we try to get ourselves a toddler and a baby over the rockies and into Utah for the weekend.
I can't wait to show the kids one of my favorite places and spend some (lots!) of time on the trails.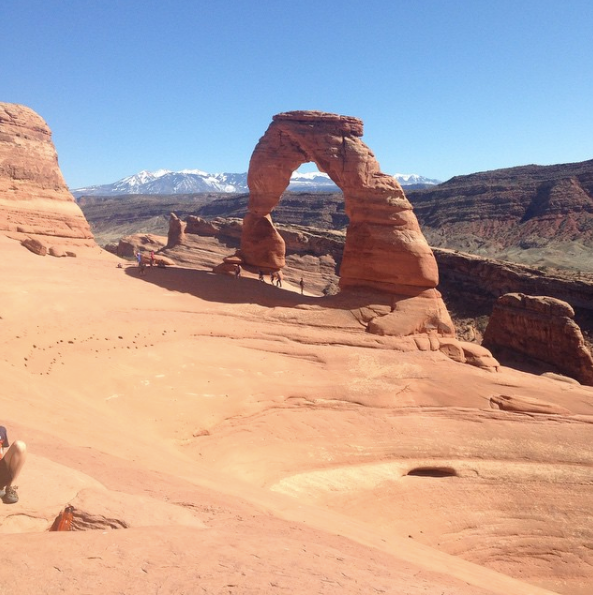 __________________________
Before we head out I thought I would share some of my favorite running gear:
Shoes: For the last few years I have been running in Hokas, they have kept my feet happy through pregnancies and some high miles both on the road and trail. Right now I am running in the Clifton 4 and Challenger ATR
Watch: One of my favorite pieces of gear ever is my Garmin Fenix Sapphire 3. The current version is the Fenix 5, my mom has the 5, it's a bit smaller, lighter and you can get optical heart rate now. I LOVE mine, and the fact that it uploads over bluetooth to my phone. It holds a charge well and still looks great after almost three years of constant wear. Side bonus is that it is waterproof so I don't have to worry about it when bathing the kids or washing my hands for the 700th time.
Tights/Capris: My Favorite tights are Lululemon Speed Up Tight. These are a little pricey BUT I have had mine for years. They have stretched and shrunk with pregnancies and have great pockets. I love them and wear them constantly! I also love Lulu's Pace Rival Crops They have kept my legs happy for many marathons over the years.
Shorts : I am on the taller side (5'8″) so I like a bit longer short. I really love Run Times Short The 4 inch inseam is a better length for me than the shorter 2.5 inch inseam. I wore them for my ultra and they felt good the entire time.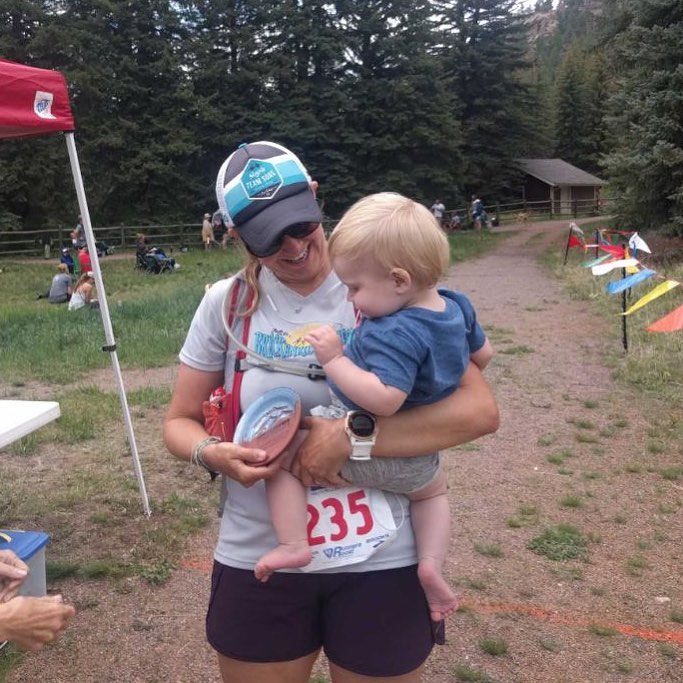 Socks: I love both Stance socks and Smart Wool. Both of these brands of kept my feet happy in marathons and ultra trail races.
Safety: A newer addition to my gear list is the Run Angel. A Run Angel is a wearable safety alarm that is quite loud. If you set off the alarm then through your phone it will send an alert and your location to your angels (people you set up to get the alert).
Treadmill: This is a necessary part of my training and I LOVE our NordicTrack Incline Trainer. It makes training possible on days where I might not be able to get out! I love that it has both incline and decline.
Hydration: I have tried many hydration options and BY FAR my favorite is the VaporHowe 12L Race Vest. This vest has tons of storage and is so comfortable and light. I forget I am wearing it even after hours on the trails.
Running Stroller: We have the single BOB Revolution stroller and the double Thule Cougar Chariot . I love running with the BOB (although that might be because it's a single so it's just easier in general. I really love the the Thule converts from a jogging stroller, to walking or bike trailer. You can even convert it to a sled for pulling while skiing but we don't have that attachment. I would love the try the double BOB to really be able to compare.
________________________________
What is some of your favorite gear?
I hope you all have a fabulous start to the weekend!